The Asian Executive interviewed MSO Principal Guest Conductor and Chinese American, Xian Zhang ahead of the MSO's Season 2023 program. Her insightful comments focused on her experiences to date with the MSO and the tremendously challenging yet exhilarating personal rewards that come with leading internationally acclaimed orchestras such as the MSO.
Having been the MSO Principal Guest Conductor since 2018, how would you describe that experience?
While my direct interactions with MSO were less often than I would have liked owing to the long shadow of COVID, I must say that I treasured and valued each of the four occasions of working with such a great orchestra. There was an ease in communication and mutual respect shown to each other during rehearsals. I have worked extensively with European and American orchestras, and the MSO musicians are technically outstanding and highly responsive to new ideas. The team is fully committed in every way imaginable to realising a vision for music at the highest international level. Australia is fortunate to have such a world-class orchestra as the MSO.
How would you describe the MSO's tonal qualities that set it apart from the other orchestras you have conducted?
All orchestras have a distinctive timbre or aural texture immediately recognisable to the trained ear. To me, MSO musicians play together with a clarity of purpose that is extraordinarily refined, logical and nuanced. A tight rhythmic pulse is evident that reflects a united and seasoned team of executive musicians. All this sounds easy to say, but it is exceedingly tough to attain. I would advocate that the DNA of the MSO arises from the great orchestras of the United Kingdom as opposed to those of Continental Europe. What I enjoy about the MSO sound is the richness and lushness of the strings that marries so well with the vast spaces of the Hamer Hall.
"Outstanding technical ability and openness to new ideas"
In listening to your past recordings of other works, there is excellent phrasing and pacing in your interpretations. There is a clear line of focus undistracted by any hint of idiosyncratic form or gesture. What have been the major influences on your interpretive style?
The greatly admired and legendary Austrian conductor Carlos Kleiber (1930 – 2004) is regarded as the supreme conductor of conductors. The rigorous depth of his analytical interpretations and transcendent performances wrested from his orchestras were peerless. Another conductor that left a lasting impression on me was German Kurt Masur (1927 – 2015), who was one of the last of his kind arising from the grand traditions of the early twentieth century. I recall studying Masur's interpretation of the Beethoven Ninth Symphony during his tenure with the New York Phil Harmonic (1991 – 2002). American conductor Lorin Maazel (1930 – 2014) was a guiding light and mentor who profoundly impacted my professional career. He possessed a photographic memory for scores and held a commanding presence on stage; Maazel was a man whose sparse words were more than compensated by an unrivalled baton technique. As I get older and reflect on my old mentor, Maazel, I see his conductor's mind's eye in every word and seemingly chance utterance and how orderly and structured his brain worked.
Your conductorship of the MSO Beethoven's Ninth Symphony performance in July this year was critically acclaimed. Beethoven's last symphony is said to be the "symphony to end all symphonies", which is of enormous scale to articulate Beethoven's utopian idealism. What onus of responsibility did that impose on you?
I have conducted Beethoven's Ninth Symphony more than thirty times with different orchestras. With each performance, I appreciate more and more the fine structure of each of the four movements and the sense of theatre that culminates in the well-known "Ode to Joy" Choral movement. My task as a conductor is to take my audience on that journey from the spiritual struggle of the first movement, the frenzied activity of the second, and the sweet melancholy of the third, leading to the heart-stoppingly memorable fourth movement. To harness the people's power to achieve Beethoven's vision was challenging but made so much easier by outstanding Australian choristers, the MSO Chorus and MSO musicians.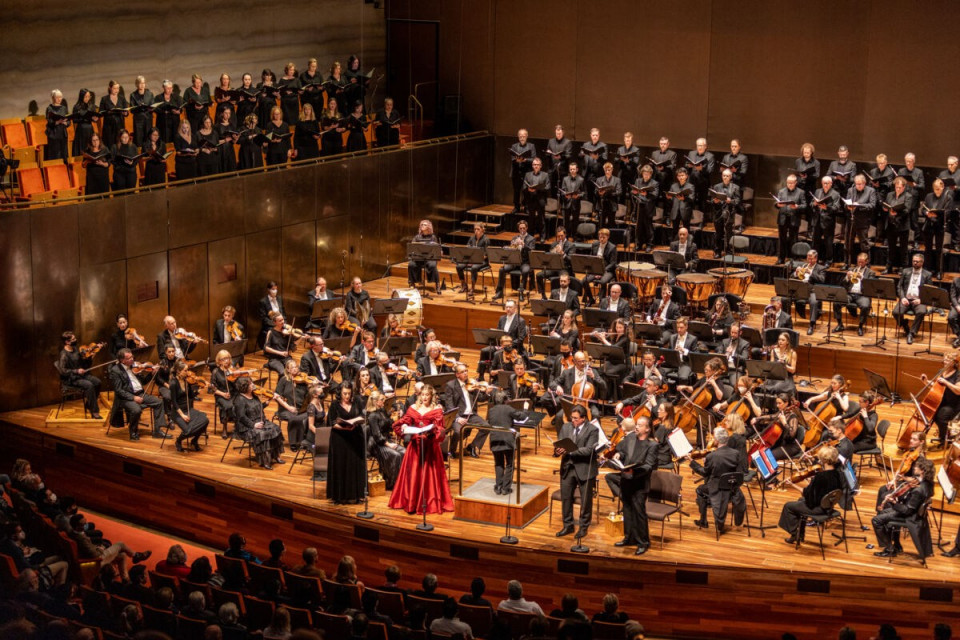 What do you find particularly challenging with conducting the works of Schumann?
There are some similarities between the music of Schumann and another composer I enjoy, Brahms. Schumann's music tends to be lighter and very graceful compared to Brahm's deeper, heavier works. Schumann's works present technical challenges to string sections which I see my job to work through. One of my early influences on conducting Schumann's four symphonies came from the late Leonard Bernstein's recordings with the Wiener Philharmoniker (1985), which were utterly brilliant. Frankly, I have loved Schumann's works since early childhood.
I suspect Australian audiences will relate well to Smetana's Má Vlast (My Homeland) for their lyrical beauty. What impresses you most about the composer and the six pieces for he is so well known.
Smetana was an exceedingly proud patriot of his homeland of the former Czech Republic. His music perfectly captures the distinctive landscapes and features of its rustic settings. Moldau, of course, is all about nature, such as flowing rivers, scenic forests, etc. His piece, Blaník, is a tone poem about mountains and undulating terrain. Šárka is the name of a mythical female Slavic warrior.
What legacy would you like to leave with Australian audiences?

I desire our Australian audiences to remember with fondness the concerts we delivered together as fellow musicians and to let the music speak for itself. I prefer not to be caught up in the cult of personality or identity but rather be remembered for my musical competency.